Red Mountain Bike Gloves for Men & Women with Knuckle Protection
Regular price
Sale price
$25.67 USD
Unit price
per
Sale
Sold out
Buy RED Mountain Bike Gloves for Men and Women
Features:
Touchscreen Compatibility: Kratos gloves feature an active touchscreen finger pad on the forefingers, allowing you to use your smartphone without removing your gloves for added convenience while cycling.

Exceptional Comfort and Fit: Our unique MTB riding gloves are meticulously designed to provide exceptional comfort and a perfect fit. Whether you ride a road bike, mountain bike, BMX, racing bicycle, or even a wheelchair, Kratos gloves are tailored to enhance your experience.

Durable Double-Stitched Design: Kratos gloves are crafted with double stitching for increased durability, ensuring they withstand the rigors of your rides.

Versatile Sizing Options: We offer a range of sizes to accommodate various hand sizes, ensuring you find the perfect fit for your comfort and performance.

100% Customer Satisfaction: Your satisfaction is our utmost priority. With our no-questions-asked replacement or money-back guarantee, you have the assurance of a risk-free purchase. If you're not completely happy for any reason, you can easily request a replacement or refund.
Share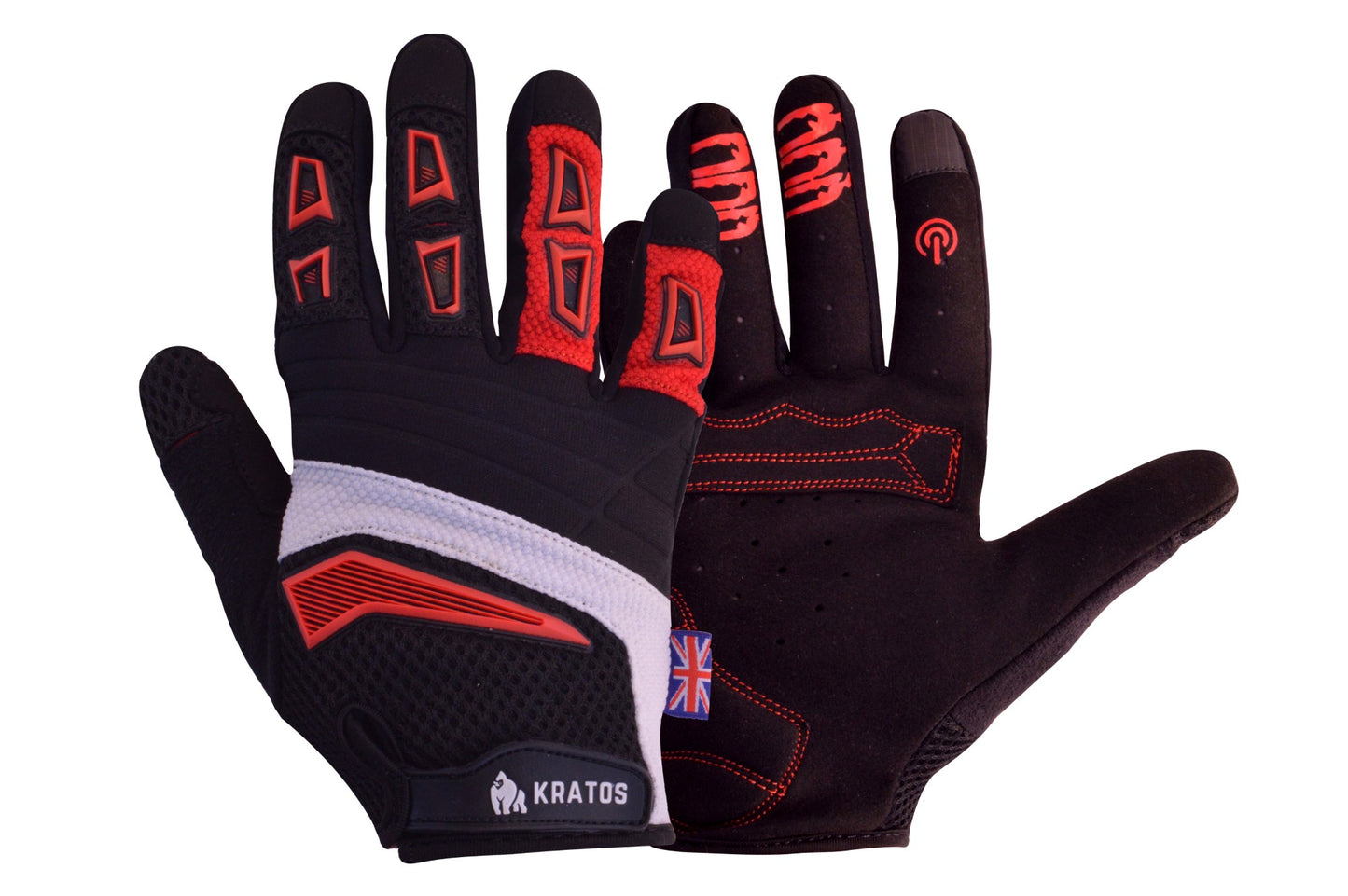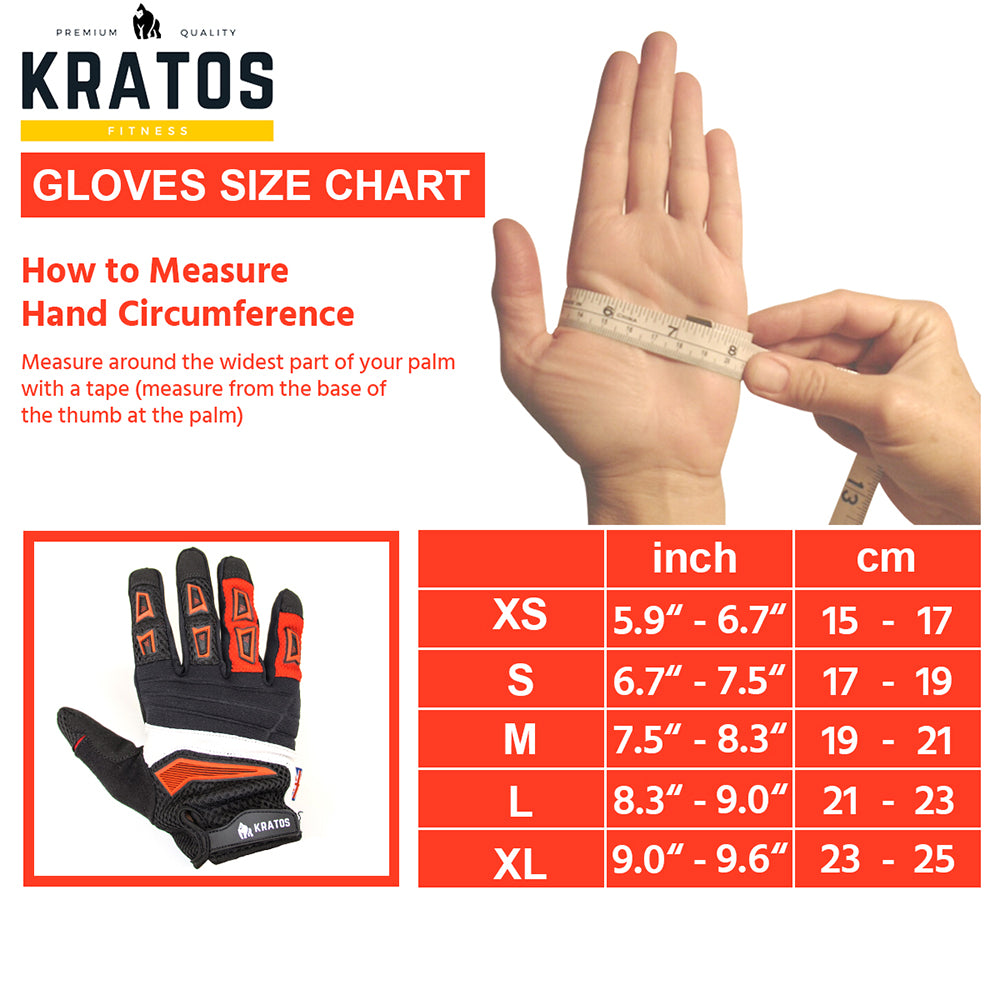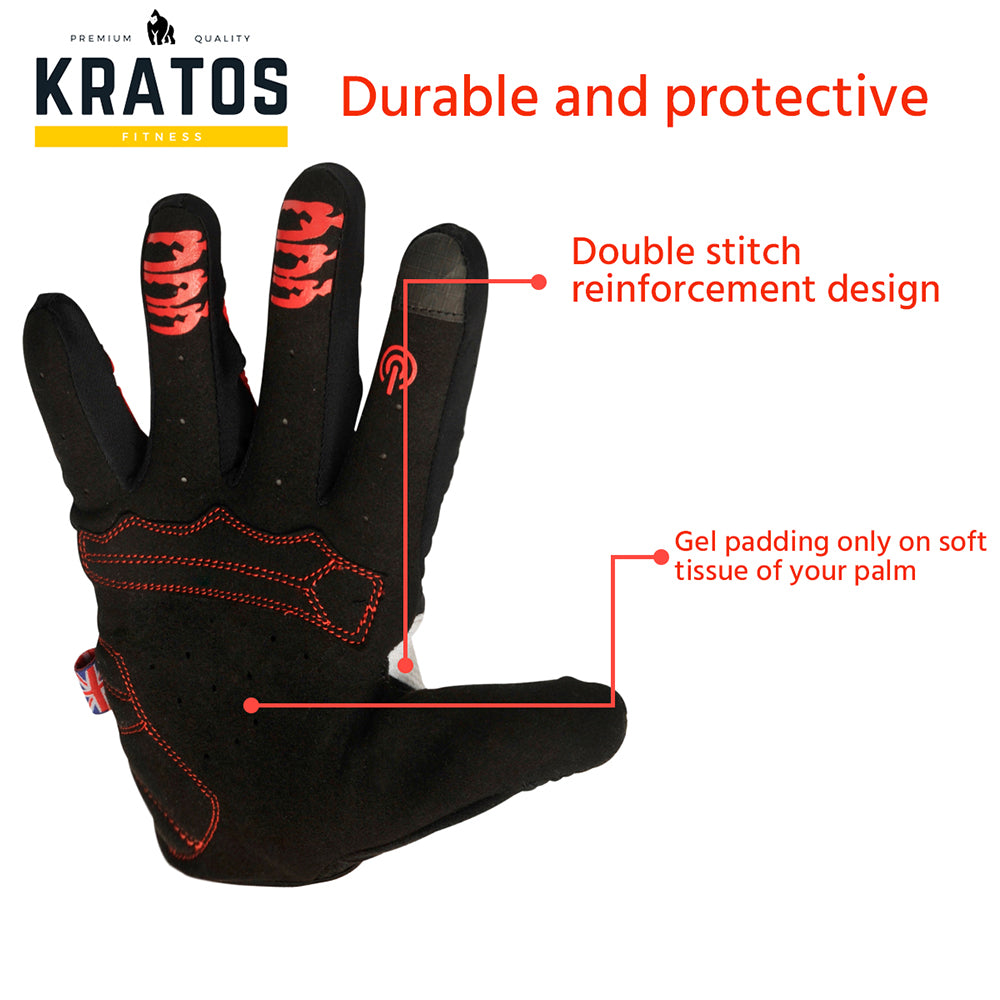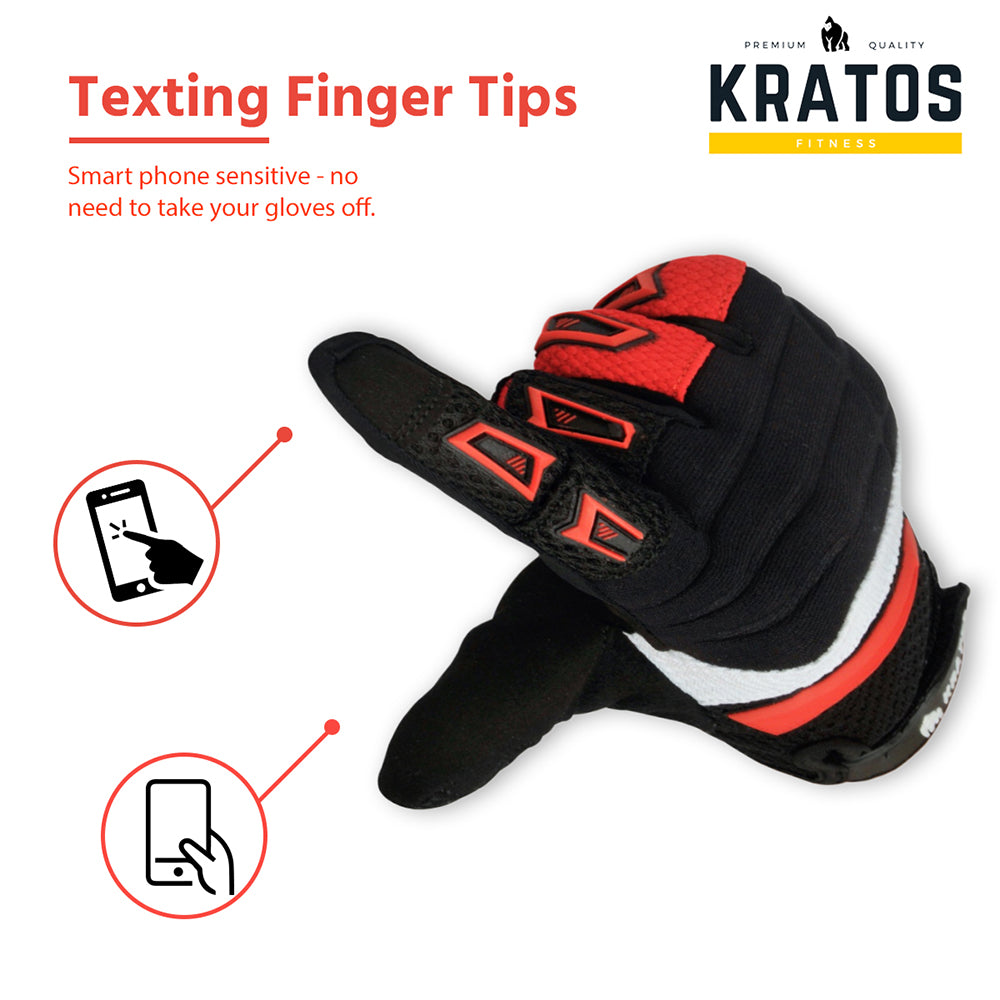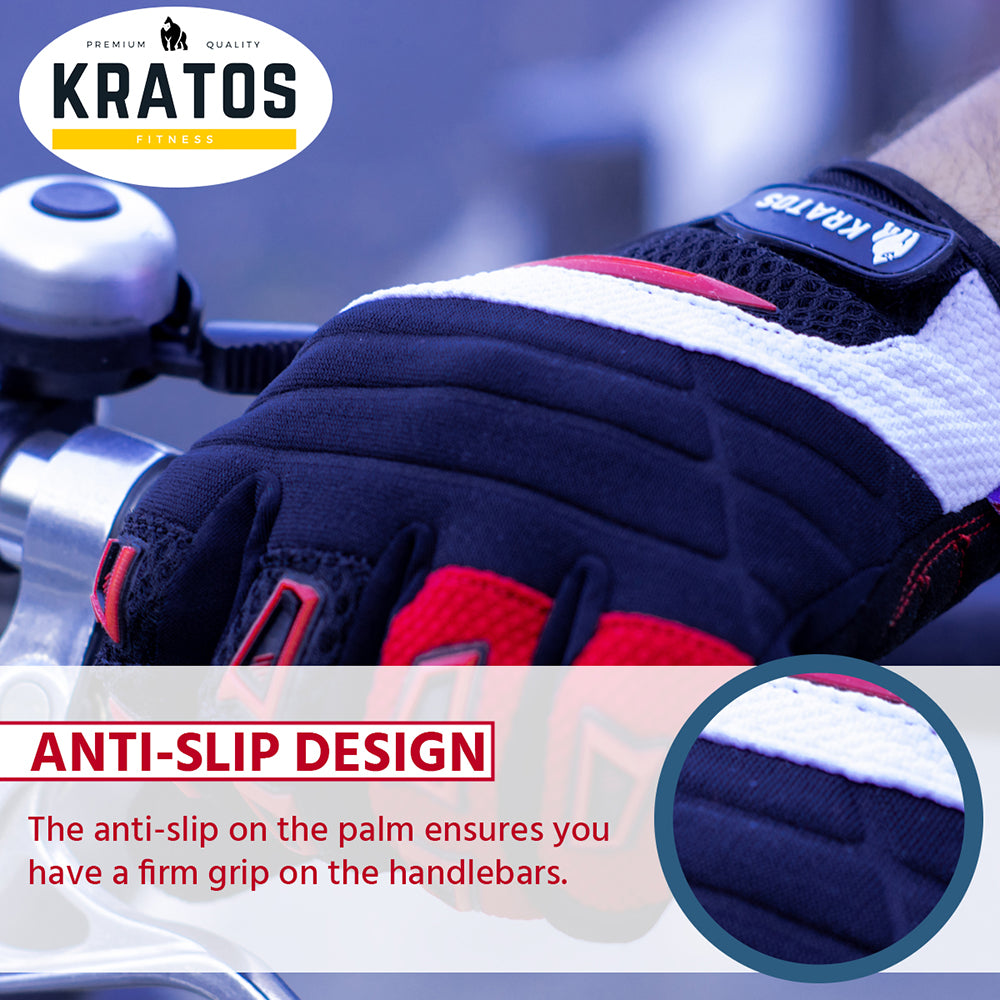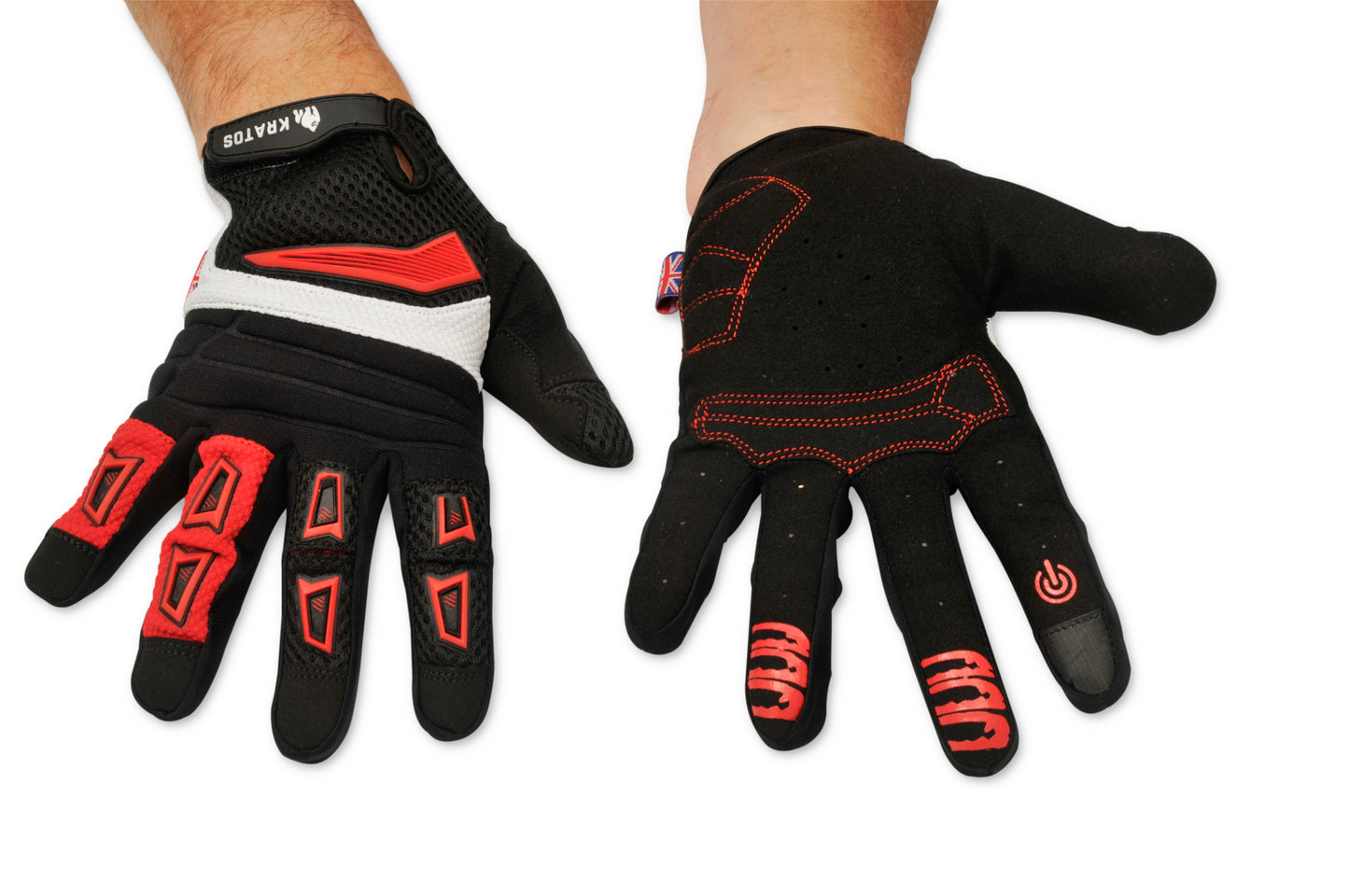 Not bad at all
You always wonder if the unbranded stuff will be as good and here is a great example of where this question is answered. I tried them in the cold and in the hot (went to Spain) and these are fair in the cold and great in warmer climes. Good with your phone and very comfortable, I am a small large-sized hand and the L worked fine for me. Great price point compared to others
Very Comfortable
I have tried several pairs of budget gloves with some protection on the top of the hands and they were too uncomfortable, thease are not great fit and protect fairly well from smaller impacts when out riding.Have been through the washing machine a couple of times and still looking good, would recommend.Edit : Unfortunately they have split and its not through use as its back of hand not palm But supplier replaced immediately so im very happy still.
Nice looking and feeling gloves, but the index finger is too long
Nicely designed gloves, which are reasonably comfortable and well made. I like the colour, the overall design and the feel of them when worn. The have a nice GB flag label, but this just means that they are sold by a British company, the label inside states clearly """"Made in Pakistan"""".The upper side around the wrist is a mesh material, so these won't provide enough warmth in winter as the air will get through. The plastic on wrist and fingers looks ok but doesn't really add anything to their functionality.Whilst they do work with touch screens, the issue I have with them is with the finger length, especially the index finger (see photo). I went for a large as have wide hands, and whereas the other three fingers and thumb are all an ideal fit, the index finger of the glove is about 1cm too long. As such it doesn't really work on my mobile since it's too hard to get an accurate hit on the screen. Selecting an app often kicks off the app on the screen above the one required. It's the same issue for both hands.I think that the price would be fine if the fit was better.
Happy to recommend
Cycling to work and home every day can be quite taxing on my hands so I needed some protection.These have worked out great.They fit really well, nice and snug.Touchscreen capability is very handy and means you can keep them on to use your phone or gadgets.They have grip for the handlebars.Very affordable.Overall I am happy to recommend.
Brilliant Cycling Gloves
Partner loves these especially as the red black and white matches he main/preferred cycling gear. Really comfortable and a great fit although can make them tighter if needed, really good padding on the fingers especially with rubber protectors for each finger section and give really good protection. Much better than his last pair that were around the same price so would 100% recommend.